Transportation Display

Based on the display technology platform integrated with the wide range input voltage and the wide range operating temperature solution, Alpha Display provides high-quality and reliable railway and vehicle displays for your passenger information display solutions.
Alpha Display complies with the international standards and regulations such as EN50155 and E-mark.

· Environmentally-friendly LED backlight LCDs from 8.4" to 42" including 38" resized bar-type displays.
· 24x7 reliability and durability
· Wide Range DC Power for Railway – DC 9 ~ 36V
· Wide Range Temperature Operation/ Storage -– 30℃ ~ 85℃
· Auto Dimming & Temperature Sensor (Option)
· RS232 Monitor Control (Option)
· Various Touch overlays & Protection Glass – P-CAP, Capacitive, IR, SAW & Resistive
· Water-proof/ Dust-proof on IP standards (option)
· Various Signal Input Terminals – RGB, DVI, HDMI, Display Port, Video
· Compliant with International Regulations and Standards
– EN-50155 : 10.4", 15", 17", &19"
– E-mark : 10.4", 15", 17", 19", 19" wide, & 21.5"
– CE : more than fifty models
– UL : 15", 21.5" & 23"
– RoHS
Passenger Information Displays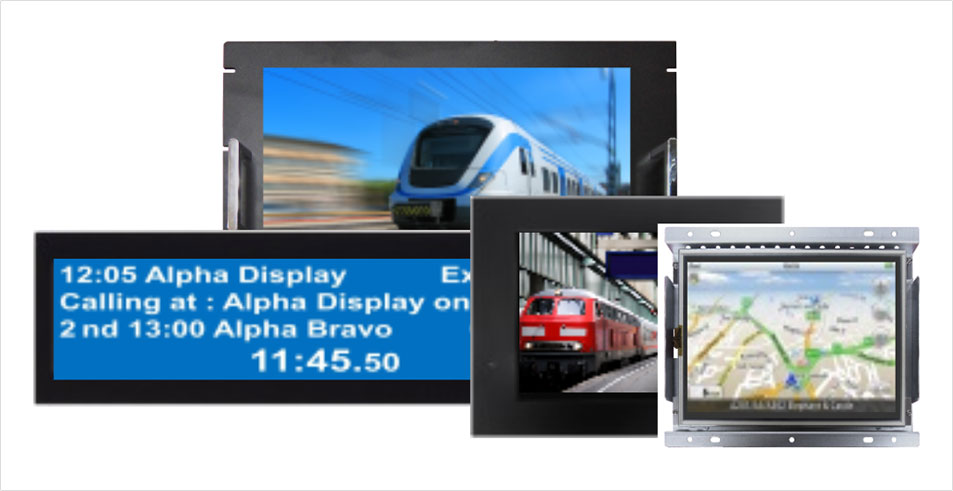 Alpha Display has developed a range of passenger information displays for railway, bus and tram applications. The product range includes indoor or outdoor platform displays and single or double-sided on-board displays as well as platform information displays such as next train indicators.

· Size ranges upto 42inch including 38" resized bar-type display (42" 1/3 cut)
· Sunlight readable High-luminance Displays for out-door applications
· Water/Dust Proof (option)
· Single or Double-sided Displays
· Wide Viewing Angle for concourse applications.